My Best Friend Gone 5 Years
My Best Friend Gone 5 Years
I Miss My Best Friend
May 20, 2014
Five years ago today my best friend died in my arms. Bruiser the English bulldog was 10.
"Man" and dog have a special love affair. Unconditional dog love touches our soul in a forever way. My tribute to Bruiser opened up emotional floodgates. It triggered the biggest outpouring of love and the longest responses to anything I ever wrote. We humans love our doggies.
I'm often asked if I would get another bulldog. My answer is, "I love to have them, but I hate to lose them." I will again one day.
Today, I remember my best friend. Below is my tribute to Bruiser. If you have ever loved and lost a best friend, you know how I feel today. If you have a pet, hold her extra close and squeeze her extra tight. Rub his tummy, scratch his ears, and plant a loving kiss on his forehead. Your best friend loves you.
I miss mine.
Bruiser
September 2, 1998 – May 20, 2009

It happened so fast.
His shriek like a dagger sent a chill up my spine.
He looked up at me with empty eyes, then went limp.
I scooped him up and raced to the car.
I burst through the hospital door screaming for someone to help.
I felt his life slipping away.
I gently laid him down on the emergency room table.
He wasn't breathing. He took his last breath in my arms.
With stunning suddenness, our beloved bulldog Bruiser is gone.
One minute he is laying next to me, the next he is limp and lifeless.
I am heart broken.
Adam's mom, Anita is torn up. She brought Bruiser home in the summer of 1999, a six-month old bundle of love.
Anita stopped by this morning and Bruiser was all over her.
Bruiser loves Anita.
The worst is yet to come.
Adam is teaching his dance class.
He doesn't know his beloved Bruiser is gone.
I am sick to my stomach about the news I have to break to him.
I spend more time with Bruiser than any human being.
He and I are always together.
When I jingle my car keys his head snaps up and he bolts to the door. He's a fixture in the back seat. When the weather is nice, we pop the convertible and he struts his stuff. He stops more traffic and causes more smiles than a bikini-clad beauty.
The tears won't stop.
The bed and couch are Bruiser's favorite spots.
He loves to cuddle and rest his head on my lap.
When I walk past the bedroom, I laugh every time I hear his funny bulldog snore. His feet twitch and his eyes dart. I wonder where his dreams take him.
Now, his favorite spots are empty.
The house is quiet.
I don't hear that throaty bulldog bark.
There's a hole in my soul.
There are so many things I love about this sweet dog.
Bruiser is a warm blanket on a cold morning, a teddy bear to hug, and a playful puppy when he wants attention.
When I ask for a kiss he turns his head as if to say, "Say please." And when I say please, he lays a sloppy one on me with a smile on his face, a sparkle in his eyes and love in his heart.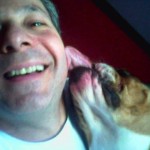 He gives unconditional love, no matter what.
He doesn't hold a grudge, no matter what.
He is loyal and dedicated, no matter what.
He is protective and courageous, no matter what.
He is affectionate and friendly, no matter what.
He is loving and kind, no matter what.
He is happy, no matter what.
Except when I pack my bags for a trip.
Then he gets visibly sad.
Now I'm sad.
Bruiser lets bygones be bygones.
He forgives immediately and forgets instantly.
He is compassionate.
He spreads love. He never runs out.
He has plenty to go around.
He gives it to anyone who wants it.
Someday, I'd like to say all these things about myself.
Animals are beautiful beings.
Without trying, they bring out the best in us.
It's amazing what animals can teach us.
It's incredible how much they can love us.
I love to be in their presence.
I hate to let them go.
I've had to say goodbye to three of our four-legged family members in the past five years. Losing Bruiser is a punch to the pit of my stomach.
Bruiser lived a full life.
He gave abundant joy and happiness.
He always reminded me how to live with unconditional love.
That's how I will remember him.
That's how I want to be remembered.
Time heals.
Love heals.
Today, hug your loved ones a little bit tighter and hold them a little bit longer.
If you have a pet, wrap your arms around him or her and squeeze like there's no tomorrow.
Make each moment you spend a gift.
Today, our family suffered a terrible loss.
Bruiser left us in the blink of an eye.
We didn't have a chance to say goodbye.
My best friend is gone.
I already miss his sweet loving soul.
Life goes on.
It just won't be the same without my huggable cuddle puss.
I love you, Bruiser.
Bless you.
Rest in peace.
Dad
May 20, 2009
[Adam called before his class started. He knew something was wrong. He said he'd been preparing himself for this.
He reminded me that Bruiser lived as long as he did because of how much I loved and cared for him, and that his spirit will always be with me.
Adam has experienced a lot of loss. He has a perspective on life and wisdom beyond his 20 years. He is great comfort. I am truly blessed.]
No tags for this post.