Show Up, Be There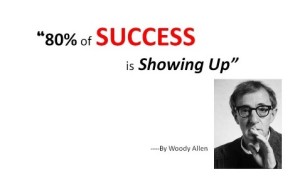 Four words I learned early in life influenced me so much I carry them with me every day:
"Show up. Be there."
I heard Woody Allen say, "Showing up is 80% of life."
I watched Ann and Ed Axelrod show up and be there for our family. Mom and Dad were always showing up and being there.
If showing up is 80% of life, being there is the other 20%.
There is no substitute for showing up and being there.
Your presence is the greatest gift you can give someone.
No cash stash can fill your absence.
Your time and attention are finite, precious and irreplaceable resources. You never get them back once you exchange, trade and spend them.
Showing up and being there reflect what you value. They determine how you use your life force. Showing up and being there is the highest and best you can give.
I injured my back on Friday September 19. For the next six days I was hurting and couldn't stand up straight. On Saturday September 27, two days after being on my back, I got on a plane to Denver to speak at Ken McArthur's Impact Event and Platinum Mastermind.
Here's what unfolded over those four days:
On Saturday I led an advanced track session on "10 BIG Things" to become the biggest person you can be. They said it changed their thinking and many said it transformed their lives.
Sunday morning I got to see my dear friend Mike Oltersdorf, "Sir Paul of Livermore" and the world's #1 Paul McCartney look alike. Parkinson's took hold of Mike a few years ago. He and his son Dan just published an inspiring book about Mike's journey called, The NEW Norm. I wrote the foreword and flew 1,000 miles to get my copy autographed in person.
Sunday afternoon I got to close the event with an off the cuff, stream of consciousness conversation about how to play and win the NEW Games of business, money, selling, values, and IP. We recorded video and audio for both sessions so we can now share these content rich conversations.
Monday and Tuesday I got to Mastermind with a half dozen collaborative and caring business owners. We met to expand our business resources, relationships and results.
Monday night I was invited to attend a meeting of the Denver chapter of ALPFA – Association of Latino Professionals for America. I was awestruck by this group of mostly under 30-year old professionals. They invited me to come back and speak to their group. I left there with new relationships feeling uplifted, inspired and encouraged for the future.
I had private and small group conversations. The NEW Game of IP and The NEW Game of Selling got a few new JV partners and a few new players.
The cherry on top is reconnecting with friends Ken McArthur, Joel Comm, Lori Ruff, Mike Koenigs, John Kremer, David Hancock, Kathleen Gage, Tom Beal, Tracy Malone, Steven Memel, Cathy Cunningham Hankinson, Andy Shepherd, Robert Merlin Davis, Debz Collins, Clark Stephenson, and meeting new friends Tamara McCleary, Mike Boehler, Donna Moyer, Izabela Grunfeld, Preston Rahm and others.
All this happens because I show up.
I had to be there to experience it.
If showing up is 80% of life, being there is the other 20%.
Showing up and being there are hallmarks of success, fulfillment and a life well lived. It's the highest and best way to love and serve.
Show up and be there for someone today.
Allow someone to show up and be there for you today.
Watch how both your lives change.
Let me know how I can show up and be there for you.
Mitch, CEO – Chief Encouragement Officer
"Show Up, Be There!"
P/S ~ Please share your comments.
No tags for this post.